All in their minds
WASHINGTON -- Tuesday – The commander of the Kosovo Protection Corps, Gen.Agim Ceku, said today that Serbs in Kosovo only imagine that they are without protection.
"Security isn't a problem in Kosovo, Serbs only think that they are without security. This is an issue of their perception. They have never checked whether they are safe or not. Serbs have free movement, they can go into the institutions, they can cooperate with Albanian majority. I believe that this is a psychological barrier against Albanians," said Ceku, speaking at the Washington Institute for War and Peace.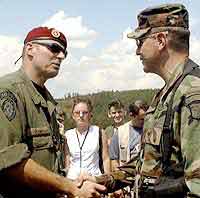 Brig. Gen. William David shakes hands with KPC commander Agim Ceku(left) while visiting a KPC training site
Çeku heads the Kosovo Protection Corps, the civil defence group which was formed from former members of the Kosovo Liberation Army.
He says that the Kosovo institutions need to assist the process of repatriation of Serbs to their homes. "We as a society most do much more to encourage Serbs to return. Serbs on Kosovo have a much better impression of the Kosovo Protection Corps, than those who live in Serbia- who don't see that the corps is working for the good of all citizens," he added.
Ceku also said that he was in the US to explain the role of the Kosovo Protection Corps, progress so far, and to promote his vision for the future of the organisation. His visit is a private one, although he has told journalists that the US Office in Pristina has organised meetings in the State Department and the Pentagon for him. He will also meet the Albanian community in New York. B92&RTK